I saw the board 4 years a go at a customer in the Netherlands. Since then I had in mind that I will buy one for myself some day. The board arrived fast and was very well packed. The quality is really nice, even better than we hoped for. The board suits very well to our '30s house. I send some pictures to friends and family, the reactions were filled with enthusiasm. I'm sure the board will travel with us for the rest of our life! Thank you.


I just wanted to follow up to let you know the new board was received today. It is perfect. My husband is already sharing photos with his co-workers and knowing how those people are, don't be surprised if you suddenly received some additional orders coming from our neck of the woods. (He gave out a couple of your business cards that came with the set)
On a more personal note, and trying not to take up too much of your time, Chess has always been a special game for my husband. One of the most valuable sets he owns is simply a plastic set he would play with his father. After his father passed away another family member took that set which broke my husband's heart a little. I managed to find a similar set on Ebay of all places, and paid way too much for it but wanted that particular set because it was exactly like the one his father had. Now, many years and 2 kids later, he now plays chess with our son, but with our busy lives (my son is 17 and in school and working etc)……their games usually turn into a half played game left on the coffee table that they get back to now and then when they can. When I saw your chess boards not only did I find them to be absolutely beautiful, but I thought it would be a unique way for my husband and son to continue with their ongoing – never-ending games…..while building new memories with a special chess board of their own. Your chess board is exactly what they needed. We have found a focal point in our home to hang it and I promise it will be well taken care of. It will also provide hours, days and years of use and lifelong memories that my husband and our son will no doubt carry with them for the rest of their lives. For that I sincerely thank you.
---

Steve,
The board is even more beautiful than the picture lets on. Thank you, thank you, thank you! Can't wait to get this set up in our living room. Not only is it a beautiful chess board, it doubles as a piece of art!
Happy Holidays,
Amy
---
Oh my gosh! I received the game today. It is so beautiful!!! It is probably the coolest gift I will ever give! I can't thank you enough. What amazing work you do, such a fun idea. Thank you kindly for your awesome customer service, fast shipping, and stellar product!! Have a wonderful day!
Your happy customer,
-Elizabeth H.
---
Steve,
I want to thank you for the excellent craftsmanship on this board! I was very surprised to see so much detail and thought that was put into crafting this piece of art. The rounded edges on the acrylic shelves are a nice touch. I especially appreciate the instructions and the hanging hardware. We were able to put the board on the wall within minutes of opening it. The meticulous packaging ensured the board arrived in pristine condition. We are thrilled with our purchase and will recommend your company to our friends. Thank you again for crafting such a wonderful piece of art!
Sincerely,
Kristina
---
Steve,
I received the set yesterday, it was a 40th Birthday gift. The Chess set is beyond expectations. The frame and board combo is perfect. The Sheesham chess pieces were beautiful. Excellent workmanship of the highest of quality.
Thanks.
---
Steve,
Received the board and set today. I've got to say you've got an amazing product here. I think it's both classy and incredibly cool at the same time. My only regret is not having more wall space to hang another set.I can't praise your work enough and wish you all the success in the world with your business.
Gary
---
Hi Steve,
The board and pieces arrived today and I have it hanging in my office. One word: AWESOME! You do great work!
Thank you very much!
Steve D.
---
The set arrived on Friday as promised. It is absolutely beautiful. The pictures online did not do it justice. My Dad loved it.
Thank you,
---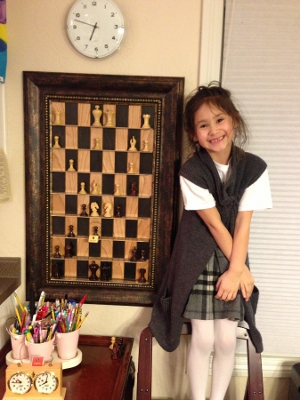 "Hi, I just wanted to share the picture of the chess set we we got from your company. My daughter, Eva Mae, and I just love it, especially since we can visually turn it around because she loves to play the dark side. This design is the best creation ever made, truly, and we thank you! It has been the most treasured Christmas gift this year and we also got her two 8 week old Great Dane puppies. So, please know that your chess set has surpassed our expectations greatly.
---
Your chess board is a big hit with my young kids. Since we gave it to my son two weeks ago, he has had a constant game going with his dad. It's so much fun (and beautiful, too).
Thanks!
---
Just got my board and set it up. It looks gorgeous, and even my wife likes it... It has been approved to hang in the livingroom.
---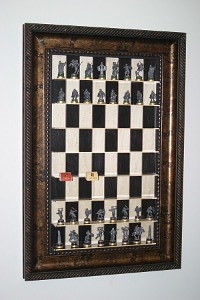 Ten years ago, Joe in Omaha bought a very nice pewter Lord of Rings chess set and for 10 years it set in the closet with no good way to display it. At least until he happened onto my booth at the Omaha Home and Garden Show. Looks great on the Black Maple board with the Black Gold frame.


Absolutely beautiful, and completely worth the price. Very proud to have one of these on my wall. Probably my favorite home furnishing at the moment and for a while to come. Fantastic work!

The board arrived today, I'm really stunned at the quality for the price, it is truly a piece of art! One of these should have been awarded at the recent Chess World Championship!