Commercial Decoration / Design
The dynamic nature and sophisticated look of Straight Up Chess boards makes for a complimentary addition to many commercial interior spaces that want décor which differentiate and make their space memorable. In the decoration process of commercial buildings, designers and architects confront how to best match the atmosphere and demeanor of well-designed spaces. Thoughtful attention to detail in choosing the amenities that compliment these environments and achieve the goals of the space is necessary. The handcrafted unique boards designed by Straight Up Chess suit hotels, lobbies, apartments, waiting rooms, and even businesses in strip malls with style and class.
Hotels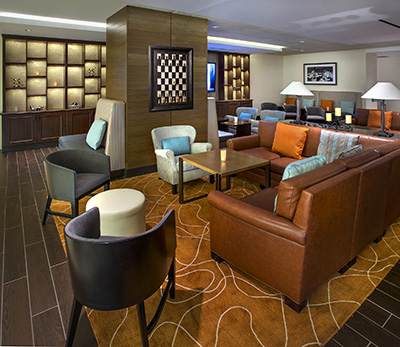 As a space that nurtures relaxation, enjoyment, and community, hotels attribute a great deal of attention to their interior decoration and amenities. To enhance this experience throughout the hotel, Straight Up Chess sets are well suited for a variety of areas in the hospitality industry. From the entrance and check-in areas to the lounges, common areas like billiards room, theatre, business centers, and even bars.
Often families and larger parties have to wait restlessly while one person checks in the group. Impatiently they stroll and wander around the main lounge or sit down on the couches when they could be starting to play a game of chess with one another. Fostering group engagement through subtle amenities that make the space far more attractive and friendly encourages the hotel to be more memorable.
The billiards and entertainment room of a hotel is often a place where only a few get to partake in a game of pool or poker while the rest of the party watches the television. Placing a Straight Up Chess board in the room allows for more patrons to have an alternative that they can participate in. The unique hotel decorations are great for other rooms like the business center and bars too. Here they are great for travelers that are business focused and want a fun way to maintain sharp and strategic in their down time.
ENGAGE YOUR PATRONS WITH STRAIGHT UP CHESS
Apartment Complexes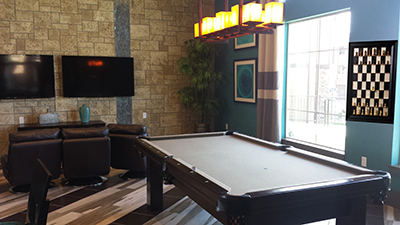 Apartments have several areas and rooms where unique amenities and modern decorations help differentiate the complex. The leasing office is often the first impression that people have of an apartment and the quality of living they are going to have at the residence. Seeing a handcrafted vertical chess set helps set the standard of the staff and managing group. Incorporating the chessboard in other areas such as entryways, multimedia lounges, and theaters and other common areas enhance the attractiveness of the amenities.
The sense of community and culture that apartments promote often plays a large roll in people's decisions to reside in one place than another. From having guests over to rainy days, the environments designs and decorations affect how likely patrons are to occupy the community areas. Subtle amenities impact how likely we are to participate with one another and the rooms themselves. Vertical chess sets by Straight Up Chess allow your apartment complex to further promote the sense of community with enjoyable activities and games.
MAKE THEM FEEL AT HOME WITH STRAIGHT UP CHESS
Restaurants and Strip Malls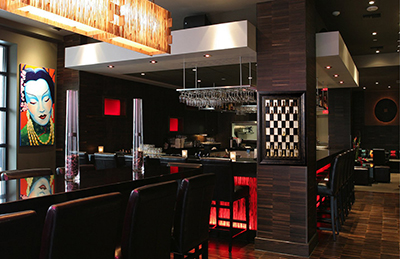 In matching the demeanor and atmosphere of a restaurant or business an interior decorator must be attentive to how people interact with the space and its décor. Does the space promote people staying, drinking, engaging with one another, or does it deter people from these activities? The nature of a Straight Up Chess set assists businesses to have an environment that not only catches people's attention, but encourages them to stay and spend money. Chess games take time to evolve and when mixed with spaces that allow for drinking are a great way to encourage people to stay and participate in a quality game of chess.
For locations that have longer than normal waiting times and a seating area for people, a unique wooden chessboard can stimulate a few patrons. Catching people's attention the game is sure to be used and played by many customers that are waiting to be served. Keep customers and clients happier by providing a solution that engages them while they wait will help customer retention and moral.