Corporate Decoration / Design
To have a "practical, aesthetic, and conducive [area] to intend purposes, such as raising productivity, selling merchandise, or improving life style" interior design affects your employees and business far more than imagined, according to the U.S. Bureau of Labor Statistics. The practice that responds to the changes in our economy, organization, technology, demographics, and business goals has a large physical impact on your business. Promoting strategic thinking, creativity, and problem-solving in your employees is crucial to your organizations' success. The large vertical chessboards handcrafted and personalized by Straight Up Chess are ideal for businesses that care to improve their employee satisfaction and ultimately results.
Business + Corporations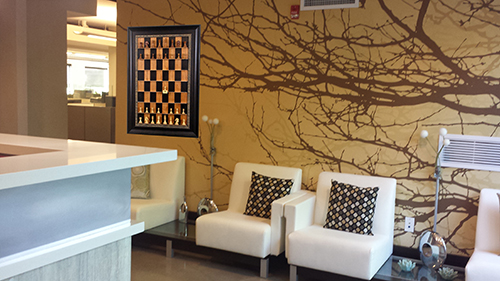 Unique problem-solving skills that can by cultivated by a space to provide solutions to companies goals are immensely valuable. The large chess sets we produce assist enhance the quality of life and business culture of the occupants while remaining aesthetically attractive and functional. Placing a Straight Up Chess board in the entryway, common areas or boardrooms can help businesses in many aspects.
In the social context of promoting company engagement, employee moral, and creative problem solving chess sets in common areas is a game that fulfills all the objectives.
Challenge your employees to have more productive activities with their off time by playing a game of chess. The game will help spawn more agile solutions, creative problem solving, and efficient uses of time.
In business lounges just twenty minutes of a chess game can change how focused an employee can become at solving a crucial problem. Alternatively, in common areas or boardrooms directors can play one move at a time over the course of several hours or days to complete the game. That is the beauty of the design, it allows you to make one move at a time and come back to it at your leisure. Start a game and watch what happens to your company culture with highly engaging games.
KEEP EMPLOYEES HAPPY WITH STRAIGHT UP CHESS
Headquarters + Executives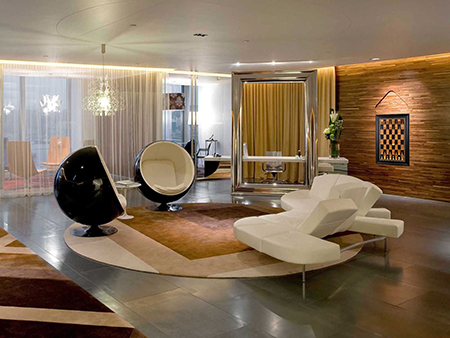 There have been many creative uses for Straight Up Chess boards that we have seen over the years that have surprised us. The ability for this game to be so dynamic and used in a variety of ways is inspiring, just as the décor is itself. From vineyards lobbies to townhomes and corporate headquarters, Straight Up Chess is a great solution to your interior design needs.
Corporate executive that have a friendly rivalry between one another is another use of this great game. Placing the board in their office executives are able to share photos or screen shots with one another of their last move with one another. Keeping one another sharp through a friendly game the competition between two organizations can foster greater productivity and results from the top down.
A great unique gift to give to your board or president, Straight Up Chess enables even your CEO to have a great gift that matches the luxury and environment of their office. Share your enthusiasm for creative solutions and the pursuit of success through a handcrafted vertical chess set that enables you two to play on your own time or get together and share your thoughts. Challenge your competition and stay on top through refining your skills and leaving your legacy.